Industrial FRP fiberglass blowers, fans, ventilators. Sales of OEM centrifugal and axial fan wheels, pressure blower impeller blades, SST stainless steel and FRP.

Canada Blower FRP composite fan is a backward curved industrial fan designed for handling particulate-free, corrosive or caustic air in high pressure applications where conventional steel and stainless steel fans would corrode. All of the parts that are exposed to the airstream are constructed of high-quality corrosion resistant materials to avoid material breakdown from most chemicals. FRP blower features a wide wheel and housing, producing a high volume of air at a lower velocity.
Canada Blower is a backward curved industrial fan designed for handling particulate free, corrosive or caustic air in high pressure blower applications where conventional steel and stainless steel fans are not suitable. FRP fan features a wide wheel and housing, producing a high volume of air at a lower velocity, therefore the need for an expansion evasé is eliminated. FRP blower is designed so all fan parts exposed to the airstream are constructed of high-quality corrosion resistant materials avoiding material breakdown from most chemicals.
Key Advantages of Composite fans are:
Aerodynamic Impellers – For one thing, composite fans have impellers that are aerodynamically designed. Therefore, the fans produce a higher efficiency that makes them perfect for a broader range of applications.
Weight Reduction – Another benefit associated with composite fanis that when compared to other types of blowers, there is a noted reduction in weight. Not only does this enhance durability, it actually helps extend the life of the mechanical drive systems, including motors, bearings, gear boxes, and more.
Less Power Consumption – To operate composite fans, less power consumption is required. Ultimately, this saves on energy, especially when making a comparison to other metallic-type blowers.
Fabrication – Manufacturers of Plastic blowers use composite fabrication procedures, such as resin transfer molding, standard molding, and compression. As a result, the blowers boast a consistent quality and the dimensions of the impellers are uniform.
Noise Pollution – One advantage of composite plastic blowers that people appreciate is the reduced amount of mechanical noise and flow sound. As imagined, this makes the working environment more enjoyable as well as safer from a hearing perspective.
Durability and Lifespan – Due to their enhanced mechanical strength, Composite fans are more durable, and they have a longer lifespan.
Corrosion Resistance – Because of the materials used in manufacturing plastic blowers, they are more resistant to chemicalerosion and corrosion.
Fire Safety – Composite fans produce vibration-free operation, and they are fire retardant.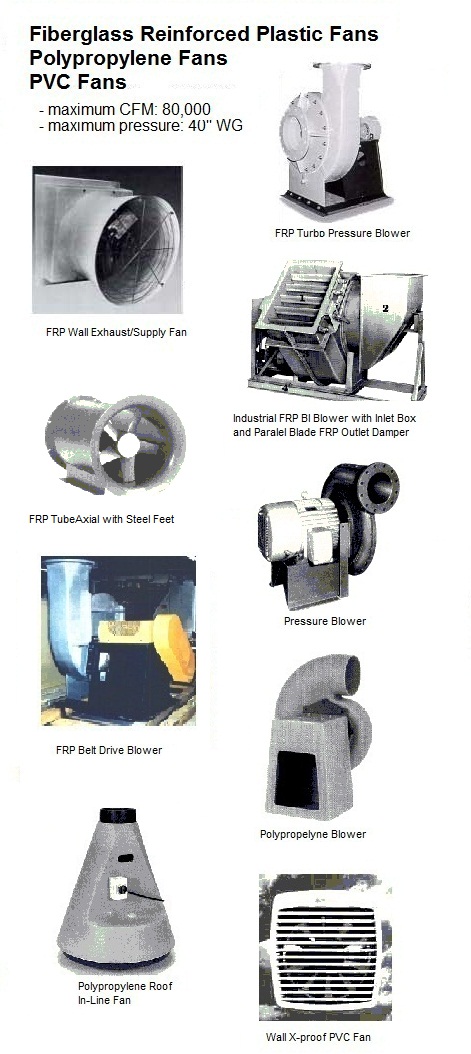 Supply of HVAC fans and blowers, large fan ventilators, commercial ventilators & fans, portable blowers fnas, electric blowers & fans, heavy duty blowers, cooling ventilators, direct drive blowers, ventilation fans, multistage blowers, high volume ventilator fans, rotary lobe pressure blowers, fan / blower packages.
Northern Industrial Blowers sell industrial air products refurbich of Garden City high temperature fans and blowers. Industrial Air Engineering for Industrial Fans, Illinois Blower Fans, Industial Air Products, High Temperature Fans, High Heat Blowers. We supply heavy duty & high-temperature industrial and commercial fans, high pressure blowers, high temperature insulated fan blowers, high capacity industrial oven blowers, combustion gas fans, oven circulation fans and blowers, high temperature axial fans, high heat centrifugal fan, plug fans air kits and high temperature axial plug fans. We sell heavy duty blowers and fans, fan ventilators, high pressure blowers, high temperature circulating plug fan, high capacity blowers, combustion blower, automotive fan & AHU air handling units, dust collection fans, blower air knife systems, roof exhausters and supply fan. Northern Industrial Fan and Blower offer high volume severe duty mining fans, air-handling unit fans for AHU. We do fans and blowers repair, re-build and up-grade.
Engineers of alloy pressure blowers, pressure blowers with high temperature construction, stainless steel, aluminum, and fabricated steel construction. Supply of replacement centrifugal fans, centrifugal blowers, and parts for centrifugal fans, and centrifugal blowers manufactured by Buffalo Blower in New York, Twin City Fan, Northern Blower, Chicago Blower, Sheldons, Cincinnati Fan, Hartzell, IAP, Industrial air products, Canadian Blower, Howden Buffalo, Penn Ventilation, Penn-Barry, Barry Blower, ACME, Aerovent, Alphair, American Fan, Lau Industries, Clarage, Delhi, Canarm, Leader Fan, Daltec, ABB, Flakt, Flaktwoods, Woods, MK Plastics, Robinson Industrial, Garden City Fan, Loren Cook, Jen-air, Jenn Fan, Aeroflo, Grainger, Greenheck, Kice Fan, ILG Industries, Canada Fan, Industrial Air, Ceilcote, Breidert, Anderson 2000, Solar & Palau, Strobic air, Trane, TCF Axial, Aerovent.
CANADA BLOWER's Industrial
Centrifugal Single-Width Fans
CANADA BLOWER's Single-Width Industrial Fans are designed for a wide range of
applications from commercial-building ventilation to industrial dust-collection
systems. Three classes of construction combined with three wheel
designs provide the utmost in selection choice.
DESIGN FEATURES
• Three wheel choices: High-efficiency
AcoustaFoil wheels - Sizes 12"-73"; a Versatile backward curved wheels - Sizes 18"-73"; a
rugged backward inclined wheels, Sizes 12"-73".
• Capacities to 200,000 CFM
• Pressures to 14" WG
• Complete AMCA Class I, II, and III performance
• Efficiencies beyond 85%
• Temperatures to 650°F
• Choice of direct-drive or belt-drive
• Available in clockwise and counterclockwise rotations
• Heavy-gauge welded components provide structural strength and
durability
• Continuously welded housings provide the strongest possible
construction
• Shafting is straightened to close-tolerance to minimize "run out" and ensure
smooth operation
• Lifting eyes are standard on all fans
• Wheels are dynamically balanced and all fans are checked at the specified
running speed
• Bearings are selected to provide long service life through the entire operating
range of the fan.􀀀al ventilation and are designed for efficiency and economy. These propeller fans
are rugged and 􀀀dependable and are available in a wide selection of sizes and
􀀀performance.􀀀􀀀These 􀀀fans can be arranged for supply, exhaust or a combination of both.􀀀􀀀 􀀀These
fans are offered with a wide 􀀀selection of accessories to complete a well-balanced and specifically
engineeredair moving system.􀀀Flow Volume up to 118,000 CFM @ 3/4'' 􀀀􀀀Static PressureBELT
􀀀􀀀􀀀DRIVE: Available 􀀀in sizes from 18 inch to 84 inch, belt driven models aredesigned for quieter
operation and lower initial cost.
AIRFOIL WHEEL: allows
stable operation from wideopen
to closed-off. Ideal for
clean-air applications such as
building ventilation with
variable-air-volume system
control or clean industrial-gashandling.
Dual aerodynamically
designed blade surfaces
BACKWARD
INCLINED WHEEL:
Flat, single-thickness,
backwardly inclined blades are
suited to applications from
clean air to those where dust
and limited material is present
in the airstream
and airfoil shapes are not
BACKWARD
CURVED WHEEL:
Aerodynamic,
single-surface blade shape
offers alternative selection
points to the AcoustaFoil for
building ventilation and
industrial gas-handling.
Backward curved wheels also
provide
the most efficient design of all
wheel types. In addition, the
AcoustaFoil design offers a
broad peak efficiency range
for selection. Because of
superior efficiency,
AcoustaFoil wheels generate
the lowest sound levels over a
wide range of performance.
Sizes 12 and 15 available in
welded aluminum only. Sizes
18 to 73 available in all-welded
steel and optional aluminum
and
stainless steel.
recommended due to material
build-up. Peak efficiency
point is on the steeply rising
portion of the pressure curve
and vastly superior
to forward curved and radial
wheel designs. Sound levels
are the lowest with the
most efficient fan selections.
Sizes 12 to 73 available in allwelded
steel and also optional
aluminum and
stainless steel.ldings where
large volumes of air are
required or where fans must
operate against resistance,
and may also be installed in
duct installations where low
static resistance is
encountered.
provide stable operation from
wide-open to closed-off.
Curved, single-thickness
blade surface generates
efficiency levels approaching
the AcoustaFoil but with
alternative operating points for
greater choice. The backward
curved wheel offers low sound
levels approaching that of the
AcoustaFoil. Sizes
18 to 73 available in all-welded
steel and also optional
aluminum.
HANDLING 􀀀􀀀CORROSIVES
Protective 􀀀coatings, special alloys, and FRP construction are available to combat corrosion
problems. Special coatings [up to 12 mil thickness] – special paints and spray 􀀀coatings are
available under a variety of trade names. Canada Blower works with 􀀀experienced coating
applicators who can apply coatings to meet a wide range of 􀀀requirements. Alternate-material
construction–Single-Width Fans can be 􀀀constructed of aluminum or various stainless steels.
HEAT-FAN 􀀀􀀀􀀀􀀀CONSTRUCTION
Arrangement 􀀀1, 8, and 9 fans can be constructed for elevated temperature operation with the
addition of shaft cooler and guard and high-temperature paint for 650°F maximum 􀀀airstream
temperature. Arrangement 9 fans are also furnished with motor heat 􀀀shield. If optional shaft seal is
selected, a recessed cone is furnished. Note 􀀀that the maximum safe wheel speeds decrease as
airstream temperatures 􀀀increase.
SPARK-RESISTANT 􀀀􀀀􀀀􀀀CONSTRUCTION [SRC]
Intended 􀀀to minimize the potential for any two or more fan components to generate sparks
within the airstream by rubbing or striking during operation. The following 􀀀types are available:
AMCA 􀀀􀀀􀀀􀀀􀀀􀀀A [AIRSTREAM] SRC: To 􀀀􀀀include all airstream parts constructed of a spark resistant
alloy... maximum􀀀􀀀􀀀􀀀temperature: 200°F.
AMCA􀀀􀀀􀀀􀀀􀀀􀀀B [WHEEL] SRC: To 􀀀i􀀀􀀀nclude the fan wheel constructed of a spark-resistant alloy and a
buffer plate around the housing shaft-hole opening...maximum temperature:􀀀􀀀􀀀􀀀200°F.
AMCA􀀀􀀀􀀀􀀀􀀀􀀀C [BUFFER] SRC: To 􀀀􀀀􀀀include a spark-resistant alloy buffer affixed to the housing
interior adjacent to the wheel backplate, a spark-resistant alloy inlet cone, and a buffer plate
around the housing shaft-hole opening... maximum temperature:􀀀􀀀􀀀650°F.
ALL􀀀􀀀􀀀􀀀􀀀􀀀TYPES SRC: Fan 􀀀􀀀􀀀is to be so constructed such that no bearings, drive components, or
electrical apparatus are located in the airstream... the user must electrically ground all
􀀀􀀀􀀀fan and system components. 􀀀As 􀀀compared to belt drive fan arrangements, direct 􀀀􀀀􀀀􀀀􀀀drive
Arrangement 4 fans of all styles, where the fan wheel mounts 􀀀directly onto the motor shaft, are
􀀀􀀀􀀀more compact, require less maintenance, and generally have a lower first􀀀􀀀􀀀􀀀 cost. However,
relative􀀀􀀀􀀀to belt-drive fans, they are limited in application, size, available features,􀀀􀀀􀀀􀀀and the ability
to adjust performance.
Direct drive Arrangement 8 fans offer much of the flexibility of belt driven fans and 􀀀􀀀are even
preferred in systems that require large volumes of air and are over 􀀀250-300 HP due to drive
limitations. A major objection to direct-drive arrangements in the past was the inability to adjust fan
speed if system requirements changed. With the advent of variable frequency drives (VFDs) the
speed, and therefore performance, of direct-drive fans can now be adjusted 􀀀􀀀to meet varying
requirements. Given the variety of operating speeds available, 􀀀choices in wheel width, and its
effect on wheel safe speed limits, the only 􀀀cost-effective method for selecting today's direct-drive
fans is software 􀀀selection fan programs.
Belt 􀀀􀀀driven fans, where the fan wheel is supported by a shaft and bearings and driven 􀀀by belts,
allow for a wider range of sizes and applications, and offer a greater􀀀􀀀􀀀􀀀selection of accessories
and modifications. However, relative to 􀀀direct-drive fans, they have a larger footprint for a given
fan size and have a 􀀀higher first cost. Without additional controls, belt-drive fan performance can
􀀀be easily altered in the field by changing sheaves and belts.
Canada Blower's Sales Team is looking forward to your call or
email providing experienced assistance with the appropriate
selection of Single-Width Industrial Fan.
Yari 􀀀􀀀􀀀Jones
CANADA BLOWER
Phone: 1-866-A BLOWER 􀀀(225-6937)
Fax: 1-866-BEST FAN 􀀀􀀀􀀀(237-8326)
canadablowers@outlook.com􀀀
If you no longer wish to receive these e-mails, please reply to this message with the
word "remove" in the subject line.
If you want to unsubscribe, click here.

.