Industrial process heat exchangers and OEM heating / cooling finned coils. Sales of replacement can / coil units, stainless steel and copper / aluminum heat coils.

Canada Blower is well-known supplier of heat transfer coils for a variety of applications. We will build a coil to your design or you can tell us your requirement and we will design it using our computerized coil selection programs.
We specialize in rapid delivery of replacement coils - custom designed (one-off) coils, one of our strengths is our ability to closely duplicate a coil which has failed.
TYPES OF COILS:
Fluid (Cooling & Heating) Coils
Chilled or hot water / glycol coils suited to a wide variety of applications - from commercial HVAC to industrial preocesses.
Steam Coils
Constructed with heavy wall copper tubing
Evaporator Coils
Induvudually designed to optimize performance on air conditioning or high to medium temperature refrigeration applications.
Condencer / Heat Reclaim Coils
Designed to handle your condencing or heat reclaim requirements.
Special Coils
For your special applications or a "one-of-a-kind" replacement.
FAST DELIVERY : 4 weeks delivery is standard / 1 week or shorter delivery is available.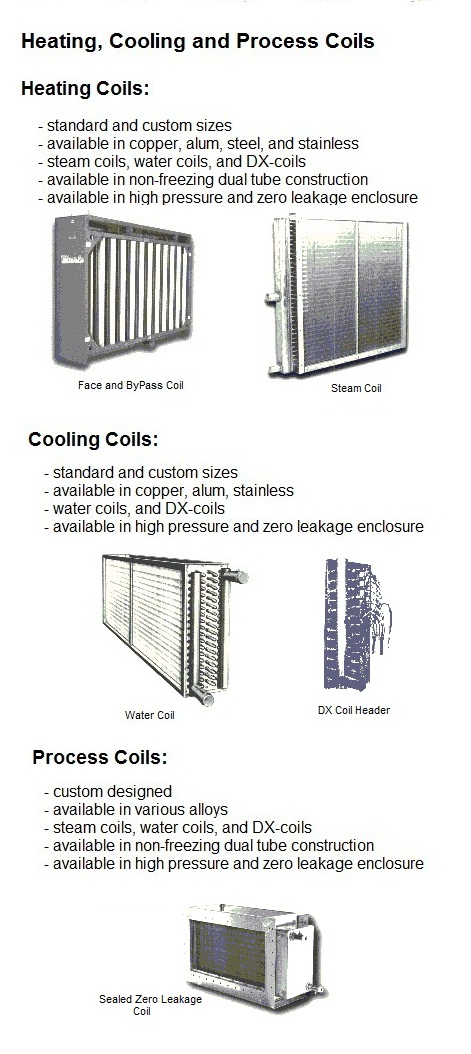 Supplier of regenerative blowers, positive displacement blowers, Acme fans, Delhi fans, fiberglass fans / FRP blowers, Plastec Propylene fan ventilators, American Coolair ILG ventilators & fans, Grainger ventilators, explosion proof blowers, power roof ventilators, replacement fan bldes / blower wheels.

New York sales of industrial high pressure blowers and OEM venilating fans = from Buffalo, New York. Engineering of Canadian Blower / Chicago high temperature fans, process pressure blowers, regenerative pressure blowers; industrial; process and commercial heating; ventilating and air-conditioning HVAC. Industrial and Commercial Fans, Blowers and Ventilators, MakeUp Air Units, Louvers, Dampers, Heating/Cooling Coils, Humidifiers and Air Curtains. Supply of replacement industrial fans and industrial blowers, and parts for industrial fans, and industrial blowers, manufactured by Buffalo Blower / New York, Twin City Fan, Northern Blower, Chicago Blower, Sheldons, Cincinnati Fan, Hartzell, IAP, Industrial air products, Canadian blower, Aerovent, Penn Ventilation, Penn-Barry, Barry Blower, ACME, Aerovent, Alphair, American Fan, Lau Industries, Clarage, Delhi, Canarm, Leader Fan, Daltec, ABB, Flakt, Flaktwoods, Woods, MK Plastics, Robinson Industrial, Garden City Fan, Loren Cook, Jen-air, Jenn Fan, Aeroflo, Grainger, Greenheck, Kice Fan, ILG Industries, Canada Fan, Industrial Air, Ceilcote, Breidert, Anderson 2000, Solar and Palau, Strobic Air, Trane, TCF Axial.

Is this email not displaying correctly? View it in your browser.
Industrial News􀀀􀀀
professional experts in air products􀀀
Replacement Fan & Blower Wheels "If
you can draw it, we can make it"®
We would like to remind you that CANADA BLOWER does manufacture and supply all types
of fan & blower replacement wheels:
Click our website for major selection
- many sizes from 8" DIA to 95" DIA, from 10
to 1,000,000 CFM, up to 125"
WG pressure;
- backward inlined, airfoil,
forward vurved, backward curved, radial,
radial tip, paddle
designs;
- operating temperatures to 2,200 F for mrtal
wheels and
to 2,800 F for ceramic wheels;
- mild steel, stainless
steel, aluminum and exotic alloy
construction;
- designed for use as replacement in existing
fans and blowers of different
makes and in stand-alone istallations;
- abrasion-resistant
construction for longest life in tough corriosive
applications;
- fibergalss FRP
impellers and PVC wheels;
- spark-resistant wheels
are available.fan efficiency than most in-line
centrifugal fans in the normal industrial
performance range.
We're looking forward to your call or email and we're ready
to provide experienced assistance with the appropriate selection!
Johnny Vitorsky
CANADA BLOWER
Phone: 1-716-393-9299
Fax: 1-866-BEST FAN (237-8326)
canadablowers@outlook.com
"If you can draw it, 􀀀
􀀀we can make it"®
If you want to unsubscribe, click here.