Industrial and commercial roof-top centrifugal fans and up-blast wall and roof ventilators. Sales of propellr wall and roof exhaust fan ventilators and blowers.

Mushroom style CRB / CRD roof exhauster is an economical and attractive way to ventilate industrial and commercial buildings:
- Complete AMCA performance & sound certification with capacities to 35,000 CFM @ 2" WG pressure;
- Bearings life in excess of 1,000,000 Hrs on belt driven models;
- Wheather-resistant motor compartment and spun aluminum hood;
- Out-of-airstream motors;
- Overlapping centrifugal impellers and deep spun venturi minimize noise level;
- Polyurethane mesh bird screen;
- Adjustable pitch pulleys on belt drive models;
< style="color: rgb(0, 0, 0);">- Available accessories include: automatic or motorized backdraft damper, epoxy paint, roof curb, disconnect switch...
A wall exhaust span aluminum option: CWB / CWD fans: general exhaust units for low to medium air volumes in commercial, institutional and light manufacturing buildings; ...centrifugal design with advantages of compact, attractive apperance, quiet operation & performance against higher static pressures; ...wheather proof aluminum housing; ...performance to 10,000 CFM @ 2" WG.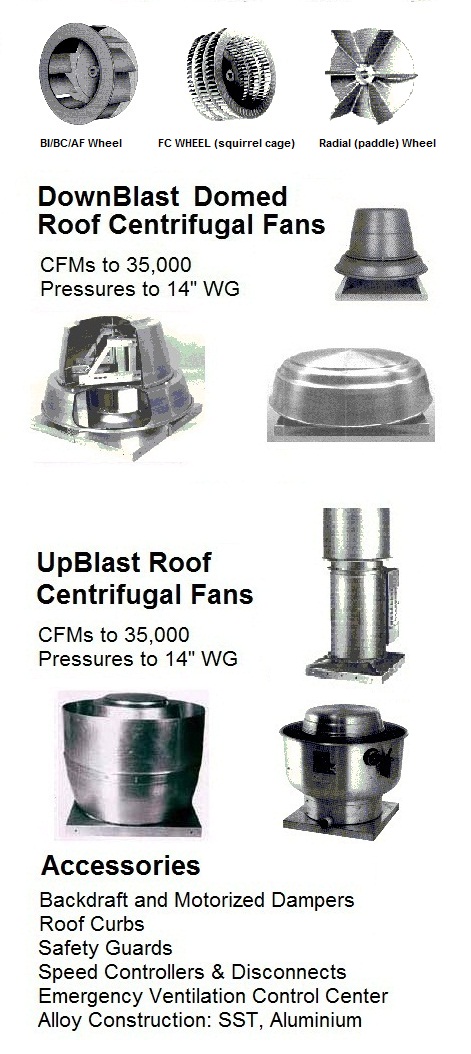 High capacity pressure blowers and custom made industrial fans and blowers. Sales of large induce and force draft centrifugal blowers and fans; exhaust and supply wall and roof ventilation fans; stainless; special alloy; FRP construction

Axial fans are provided at Canada Blower. We offer wheel diameters in sizes up to 85 inches? CFMs up to 300,000. Axial fans are manufactured with the option of direct drive and belt drive. Pressure up to 14 inches WG.
Industrial suppliers for pneumatic conveying blowers, corrugated materal handling fans, radial wheel blowers, high pressure radial ventilators, paper trim handling fans, industrial combustion OEM blowers, high pressure blowers in series, dryer fans, paint booth ventilators, roof exhaust ventilators, huge fans, high RPM blowers, high speed centrifugal blowers, Twin City utility sets, ventilating sets, high CFM ventilators, large wheel ventilators, narrow pressure blowers, all stainless steel ventilators,metal conveying fans.
Stock of tubeaxial & vaneaxial inline duct fans, blower and fan repair / balancing, replacement centrifugal and axial fan blades, axial duct fans, aluminum pressure blowers, FRP ventilators, dust collectors blowers fans, dust collection fan ventilators, high temperature oven circulation fans, explosion proof ventilatoprs, spark reistant fans and blowers, induce & force draft fans, fan blower impellers.
Engineering of Twin City Aerovent fans, CBC Chicago Blower fans, Acme fan ventilators, New York Blower, ILG American Coolair fans, fans for building ventilation, industrial high temperature oven fans, furnace blowers, leader ventilators, Delhi fans, negative pressure ventilators, USA industrial fas blowers, explosion proof pressure blowers, blower air knives, high temperature pressure blowers.